5 Advanced Local SEO Tips to Boost Campaign Success 2022
Even the top-performing SEO strategies face a downfall after some time if not updated or optimized regularly. So, here are some local SEO tips that will help you get potential results from your SEO campaigns in 2022.
You will discover here some of the best advanced SEO tips you need to boost your marketing campaign. Read on to learn more!

1. Post on Your GMB Listing Regularly

Google My Business is not a one-time thing. Apart from creating your business listing, GMB allows you to post that users can see.

There is no official statement that GMB posts increase the rankings, but it surely increases the engagement, which results in better rankings.

You can use the GMB posts for announcing events, launching new products/services, highlighting products/services, informing changes in working hours or days, sharing limited-time offers, etc.

People can see these posts from the Updates tab or Overview section of the listing. Moreover, one can also access it from the tab "From the Owner" on the desktop.

As there is no magic number, you can post as much as you want, but at least maintain a frequency of once a week. It may seem basic but can surely boost the audience exposure of your GMB listing, which will result in increased traffic.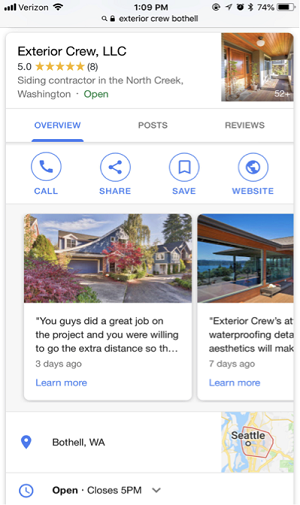 2. Get Published in Your Local Publications

You must have created business listings on all the possible directories you found, but work isn't done yet. Now, find your local bloggers or news websites to get your content published there.
As the publications you'll reach are local, they'll have the audience you are targeting. You can participate in or host some community events to get your published.
Moreover, you can also contribute content to the blogs of your niche. This will increase your topical authority and enhance the local rankings.
You can use the search operators like the below example to find your niche and city blogs. If your business deals with home renovations in Toronto, then with this single query, you got almost 800 prospects you can reach out to publish your content.
You can use the different variations of search operators and keywords to find more prospects for your outreach.
Marketing For You– a digital marketing agency in Toronto used this strategy to publish their content on Canadian blogs that post about marketing. As a result, the website rankings received a substantial jump.

3. Publish Local Content

Today, almost every business has a blog to share their industry knowledge and support local SEO. It's good, but there are numerous businesses out there in your niche, and if you write the same generalized content, it won't get you anywhere.

People are sick of monotonous content, and they need highly personalized content. So, for local businesses, the content should be more local. You can write about the experiences and projects you have worked on in the neighbourhood.

If we consider the previous example of a home renovation business, then you can write about the house projects you worked on and even share the before-after picture of those houses.

This way, you gain more trust, authority, and exclusivity, which makes you stand out and earn more business.
4. Create Research-Based Content

Research-based content always performs exceptionally; just the creation of the content takes little effort. But there is a way you can do it easily, even if you don't have a huge audience or email subscribers.
You can use the relevant Facebook groups to post your polls and collect data that make sense for your business. You can also consider online communities to perform your research to gather the information. Make sure you join the relevant groups to collect the data.
Make some questions with multiple options and post them on the groups to record the responses. Always meet the group guidelines to avoid being banned from the groups. Don't spam the group by posting all questions in a day, post one question at a time, and give it some time to reach the maximum audience.
The minimum sample size for research is 100, so even if you get 100 responses, you can create your research content.
5. Make Negative Reviews Positive

Don't take it literally; you can't do it, but there is a way to optimize negative reviews. First, know the reason for the negative review and respond with an apology and proper support.
It leaves a bad impression on your potential new customers if you leave the negative reviews unattended. Instead, provide them with the proper support for their problem and offer some compensation like discounts or coupons.
This way, you'll not only solve the problem of the unhappy customer, but also your prospects see you as a brand that cares about its customers and provide the best customer service.
So, we can say negative reviews are a blessing in disguise; just make sure you don't get many negative reviews; it shows a problem with your product/services.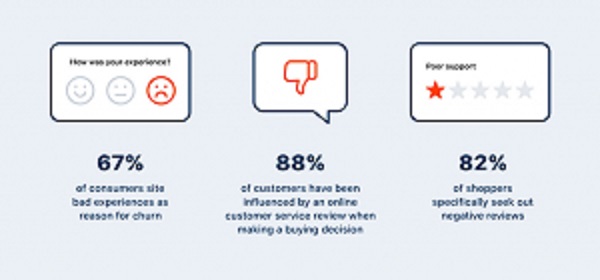 Source
Bonus Tip: Make Recurring Customers

It's essential for a business to have customers that are loyal. You can do it by making a reward point system or offering a decent discount on every purchase.
The reward points make customers feel they are getting something extra with their purchase that they can use to buy more in the future.
So, it makes people stick to you. It's not a core loacal SEO tip, but you can promote it on your website and other platforms to grab the customer's attention and convert new customers. You can also work on a referral system to let your customers do the marketing for you.
Conclusion
All these strategies are pretty popular, you only need to integrate these into your local SEO. Local businesses have a limited audience, but make sure you give them the best online experience that they can't get anywhere else.
So, implement these local SEO hacks in your SEO strategies and keep updating these according to new trends to have the potential results. Google also rolled out an update on the authenticity of the reviews, so make sure those new updates are followed at best.